Guide To Assam Solo Trip
Assam, the gateway to all the other 6 states in North East is has a lot to offer to travelers. I went solo to Assam and was quite impressed by the attractions it has to offer.
If you are looking for a solo trip to Assam, this post will help you decide on itinary, stay, food and sights to visit. Keep reading…
Table of Contents
Where is Assam?
Assam in one of the seven sister states in the North East part of India.
How to reach Assam?
Assam is well connected by Air, rail and road with other states of India. It is also known as the gateway to North East as everyone have to pass via Assam to visit any of the North Eastern states.
This situation may change once the train connectivity between Kolkata and Agartala via Bangladesh is in place.
Assam by flight
Assam International airport is well connected by all the major cities of India and all the major airlines have service to this state.
A airport is very attractive, showcasing Assam's heritage and natural beauty.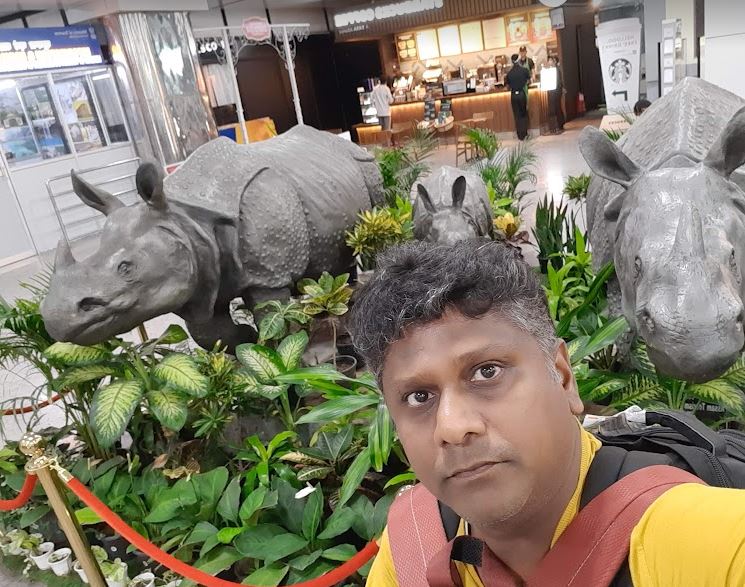 Assam by train
Guwahati, biggest city of Assam, is well connected by trains. The Guwahati station (at times also called Paltan Bazar station) is among the most beautiful stations in India.
The Assam state bus depot is also near this station apart from in ISBT.
Assam by road
You can take your own vechicle to Assam, but be aware that it could be very long drive.
Budget stay in Assam
If you are traveling by train, best way will be to book Retiring room online at Guwahati station. Do note that Guwahati is a very busy station, so you may be better off booking retiring room at Kamakhya station for Rs.500 for 8hr or a bed in dormatory for Rs.150/- for 8hr.
I found Kamakhya station very less croweded and it offers all the facilities.
In case you are looking for hotels or hostels, Paltan bazaar near Guwahati station will be better place for you.
The AC rooms start from Rs.1200/-, you can look for hostels as well on Hostelworld app.
Food options in Assam
You will find all kinds of food available as Guwahati is a tourist place.
Places to visit in Assam
I visited following places around Guwahati and Kamakhya. Depending on your plan, you can visit other cities as well to explore.
Kamakhya Temple: This is a must visit place as its major Shakti peeth. Its very near to Kamakhya railway station. The bus will drop you at bottom of hill of the temple for Rs.10/- , from there you will get sharing car. For Rs.30, it will drop you at the entrance of temple that is on top of a hill.
Umanand Temple: The belief is that the visit to Kamakhya temple is incomplete without visiting Umanand temple. From Kamaknya foothill, you will get a bus for Rs.10/-, ask conductor to drop you at Government Ferry. The private ferry cost Rs,200 and Govt ferry cost Rs.20 for both side. It starts at 930am.
Roapway across Bramhaputra: This is near the private boat ferry stop. It cost Rs.100/- each side. Better return by a boat from the other end, it will cost Rs.5 per person.
Assam Museume: In case you have not visited any other NE museume, do give this one a look. Keep this in your plan B
Visit Dispur: Though Guwahati is the biggest city, the capital of Assam is Dispur. A bus from Paltan bazaar will take around Rs.15/- and drop you here. Dispur has many commercial places, mall and Government buildings you may like to have a look at.
National Parks: Ofcourse there is Kajiranga and Pobitra national park, you can visit any one of it.
FAQ:
Do you need ILP for visiting Assam?
No, unlike few of the North eastern states, ILP (Inner Line Permit) is not needed for visiting Assam.
Conclusion:
Assam's weather is hot and humid so better visit there during winters. Kamakhya is a big crowd puller, you will have to spend atleast 4-5 hrs in case you want to do Garbh Darshan else Mukh Darshan can be done in 20-30 min.
Assam solo trip will be enjoyable during winters.
Related Posts:
Do read more solo travel related posts on JholaUthaKchale