Guide to Agartala Solo Trip
Tripura is among the smaller states of India. As part of my North East trip, I covered Tripura (actually Agartala only which is the capital city of Tripura).
Intrested in knowing my experience? Keep reading…
Table of Contents
Where is Agartala?
Agartala is the capital city of Tripura, one among the seven sisters of North East state.
How to reach Agartala?
Agartala is well connected by Air, train and road. Based on your travel preference, you can opt for any of these or a combination of these.
Agartala by flight
Agartala has an International airport named Maharaja Bir Bikram Airport. The frequency of flights to this airport is pretty less.y
So unless you are traveling from Kolkata, you may find much better flight options to Guwahati.
Agartala by train
Agartala is well connected by train from Guwahati. The train is not much croweded, hence getting reservation is easy.
The total travel time from Guwahati to Agartala is around 13hrs, the train starting from Guwahati at 1pm will drop you at Agartala at around 6am.
Agartala by road
You can also drive till Agartala, again the roads is via Guwahati. You can also get luxury private bus as well as Government bus. By road it takes around 24hrs.
Budget stay in Agartala
The best budget stay in Agartala is the railway retiring room, but make sure to get it booked online. The railway staff there did not offer any help for offline booking.
Agartala sightseeing
From Agartala station, reserve an auto till Bhartala, its the nearest city. If you want to use shareing auto, just step out side station, from there sharing auto will charge Rs.20-30 and drop you to Bhartala market.
You will find bus service to various tourist spots from the market place or you can bargain with auto.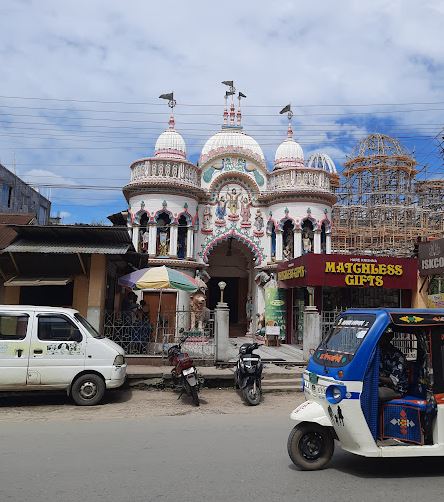 Places to visit in Agartala
Within the city, you can visit Ujayanta Palace, ISKCON temple. Further ahead,you can visit Udaipur.
Agartala weather
Agartala weather is more towards warmer side. So if you are planning for Agartala, make sure to check weather else heat may ruine your trip.
My Experinece of Agartala Trip
My Agartala experinece was not a very good one. Following events unfolded as I stepped in Agartala:
Negative Experience
Retiring room "Not available" but I visited and clearly saw it was not occupied. In fact it was so un-used that i had a thick layer of dust on its floor!
No cloak room in Agartala station, I had to carry my 10kg + shoulder bag while exploring the city
Flash strike called by local political party, due to this all the bus and trains were cancelled till 6pm
I decided to return same day as the weather was on warmer side and got the train that got cancelled at 8am and boarded the train. TC charged Rs.200 extra and allocated a seat, but no ticket was issued!
Positive Experience
All was not bad, the people around were very helpful. They advised me how I can save on travel by taking sharing auto.
While roaming around, people were helpful when ever I approached for directions.
Food was good.
Note: If you would like to grab a beer, you will not find a bar.You will have to buy your drink and consume it while standing at the wine shop itself!
FAQ:
Is there a direct train to Agartala?
Yes, there is a daily train starting from Guwahati to Agartala. New long distance trains are getting introduced as well.
Conclusion:
Agartala is hot place, make sure to visit there during December or other month when weather is cooler there.
Related Posts:
Do check out more solo travel related posts on JholaUthaKchale