Looking for an adventurous and religious to visit in Maharastra? Look no further, Bhimashankar is the place for you. Keep reading for details…
Table of Contents
Bhimashankar by trek, bus, own vehicle
If you are a Shiv Bhakat and also a trekker, you definetly should visit Bhimashankar. It will challange your trekking skills and fulfill your religious craving.
Bhimashankar
Bhimashankar is a small town near Pune, frequented by Lord Shiva's devotees and trekkers. The devotees are more intrested in the temple and other religious rituals while trekkers enjoy the monsoon trek to the hills of Sahayadries along with darshan.
Bhimashankar Temple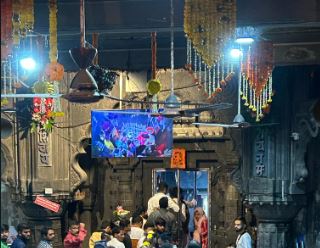 Bhimashankar is not any temple, it is one of the 12 jyotilings/jyotirlinga. Jyotilings are famous as it is belived Lord Shiva himself appeared in these places.
The belief is that Lord Shiva appeared at this place to kill an asur named Bhima who was killing lots of innocent people who belived in Lord Shiva.
How to reach Bhimashankar?
You can reach Bhimashankar either by road or trek. Here are the details of both the options"
Pune to Bhimashankar by road
You can drive your own vechicle till Bhimashankar. There is motorable road right till the temple.
You can also take a State Transport bus from Shivaji Nagar ST Depot in Pune. The bus journey will take around 4-5hrs and ticket is Rs.185/- per person.
You will get bus from Mumbai as well from Kurla Bus Depot. The travel time will be around 7-8hrs from Mumbai.
Bhimashankar Trek
You can trek till Bhimashankar temple from Karjat, Mumbai.
Reach Karjat by boarding a local train in the Central line. Get down at Karjat and move towards west.
Just outside station, you will find sharing autos. You can also reserve a full auto, it will charge your Rs.800-1000/- per auto.
Auto will drop you at Khandas village. From there you can start your trek or take a car that will drop you at the base of the hill. They will charge you Rs.200/- for one trip (can accomodate 4-5 people).
Note: Though there are markings on the route, at times it gets confusing. So if its your first time, better ask a local to guide you. They will charge you around Rs.2000/-
How long is Bhimashankar trek?
If you are very active person who does a lot of trek, you can complete the trek in 4-5hrs otherwise it may take 8-9hrs as uphill climb is very tiresum.
How long does it take for darshan in Bhimashaknar?
During shravan, there is huge queue in the temple. You may spend more than 5hrs. In case you arrive out of shravan season and weekdays except monday, queue is much smaller.
If possible, do a night stay and get up early in the morning to attend the morning arti at 530AM. Crowd starts pouring from 7am onwards till 10pm i.e temple closing time.
Bhimashankar Hotels
There are many hotels,lodges and home stays near the temple itself. Just read the hordings at shop and you will find a home stay.
Note: Homestay may not be very neat and clean, so first check it out before paying.
There are few hotels, lodges adjecent to bus depot. These are decent hotels if you are a travelers but a family person may or may not like it. The charges will be Rs.2000-2500/- for double bed room.
You will also find a big room with many beds, in case you are in a group.
There are many hotels around 6km from the temple. These may be expensive but better in case you are very particular about the room.
You may also find a dharmshala for cheap rate just behind the temple. Do checkout for cleanliness before booking.
Note: There is water problem in Bhimashaknar hotels and home stay as water is supplied by tankers. So better clearly set expectation with the hotel guy in case you need hot water early in the morning.
Food options in Bhimashankar
You will find plenty of small and decent size hotels near the Bhiashankar Temple. These places provide Veg food only. These places open pretty early in the morning,
FAQ:
Why is Bhimashankar temple famous?
Bhimashankar is one of the jyotirlinga, it is belived that Lord Shiva himself visted these places hence the significance is more. Devotees pour in large numbers during Shravan month and on Mondays, these days are considered to be auspicious by Shiva devotees.
Conclusion:
Bhimashankar is a popular place as it has religious as well as natural sentiments attached to it. It has good connectivity and plenty of stay and food options.
Related Posts:
You will also enjoy more travel blogs on JholaUthaKChale