Step by Step process to get ILP Nagaland Online
Are you planning to visit any place in Nagaland? You must have heard that to enter in Nagaland, you need to get Inner Line Permit (ILP). Without this permint, its illegal to enter Nagaland.
In this post I have shared my experience of getting Nagaland ILP online, keep reading for details…
Getting Nagaland ILP is pretty simple, you can get in Online as well as Offline. I will recommend you to get it done Online from the comfort of your home and save a lot of time and hassel faced in Offline method.
To apply for Nagaland ILP, follow these simple steps"
Browse to Nagaland Government ILP website
Click on Apply Now button
It will ask you category, select appropriate option, I selected Domestic Tourist.
Enter a valid phone number and it will send you an OTP
Enter correct OTP and hit submit, it will take you to another page where details about you needs to be filled.
Enter your details, upload a passport size photo, Aadhar Card (both front and back), enter number of days of travel and your stay details there.
Once you have entered all these details, submit and you will get an email confirmation along with your tracking number.
It takes aroud 4hrs to get approval in case everything is in order. Once the authorities approve your ILP request, you will get a confirmation email along with paymet link.
For me, I had opted for 4 days stay and it cost me Rs.50/- which I paid using UPI.
As soon as the payment is successful, you will get option to download the ILP. You can take a print out or carry the softcopy along with original Aadhar card or what ever identity proof you have mentioned during the process.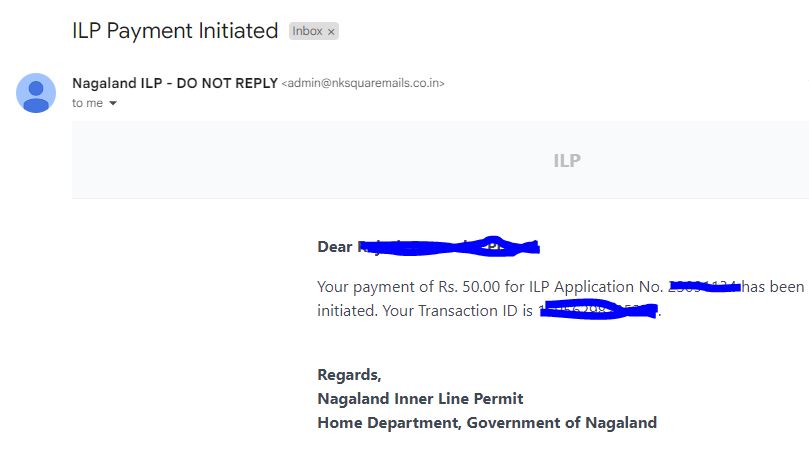 What is ILP?
ILP stands for Inner Line Permit. This is needed for Indians to visit most of the North East states that share border with other countries.
For non indians, there is another permit called as PAP.
How to reach Nagaland?
Dimapur is the biggest city of Nagaland and it is connected by railways as well as road network. You can arrive at Guwahati, Assam and from there you can get a train to Dimapur.
From Dimapur, you can visit various places in Nagaland via State Transport Bus or Taxi (sharing/private).
FAQ:
Is ILP needed for Nagaland?
Yes, recently Nagaland administraion have started checking ILP and are imposing fine on those not carrying a valid ILP.
What is the cost of ILP in Nagaland?
Online Nagaland ILP cost if Rs.50/- Only. If you do Offline, you may have to pay Rs.150/-
Conclusion:
Nagaland is a beautiful place, with Hornbill festival being conducted every December, lots of tourists visit Nagaland.
Make sure to get ILP before entering Nagaland, the process is very easy online and cost only Rs.50/-
Related Posts:
Do read more intresting and informative travel related posts on JholaUthaKChale