Looking for a simple hike or drive till the edge of river and relax? Devkundi River near Naigaon (Kaman) is the right place for you.
Devkundi River Hike Details
Devkundi river is named after the village it pass through i.e Devkundi village. Its a monsoon river that dries out once rains are over. so the best time to visit Devkundi River is during Monsoon.
Alert: During monsoon, at times the river overflows and water current are very strong. So be careful and listen to locals when they advice you not to enter water.
Table of Contents
Where is Devkundi River?
Devkundi river is in Devkundi village which is around 2.5km from Kaman village at Vasai/Naigaon.
How to reach Devkundi?
You can reach Devkundi either by vechicle or by train (last mile will be by road only).
Devkundi by Train
You need to reach Naigaon or Vasai station. Its a local train station in western suburb of Mumbai.
I recommend Naigaon as there are plenty of sharing auto and its cheaper from Naigaon.
Once you reach Naigaon, go to East side and as you exit, you will sea auto stand. Check for an auto till Chinchoti Naka.
They will charge your Rs.30/ per seat. From Chinchot Naka, walk few meters (do not enter the chinchoti gate), there you will find sharing auto till Kaman village. It will cost your Rs.20/- per seat.
From Kaman village, you can walk for 3km or take an auto ( they may charge you Rs.500 per auto) till river.
Devkundi by road
You can take Mumbai Ahmedabad National Highway and exit the highway at Chinchoti Naka. From there, drive till Kaman village (you will pass Bhajanlal Dairy farm).
Enter the Kaman village gate and drive straight till its the end of road. You will find Devkundi river on your left hand side.
Things to carry for Devkundi River
Make sure you wear comfortable shoes. Carry food with you as there are no shops near the river.
Since its a river front, most likely you are doing to take a dip, so carry an extra pair of cloths and towel.
Whenever going on a hike or trek, always carry :
cap,
water bottle,
mosiquito repellant cream,
first aid box.
Is Devkundi river safe?
The river may get aggressive during heavy monsoon, so avoid this place. Many accidents have alredy taken place here as waterflow increases. Better avoid if there is excessive rains and check with locals before entering in river. Otherwise the river is very safe.
Avoid alcohol and be careful if kids are with you.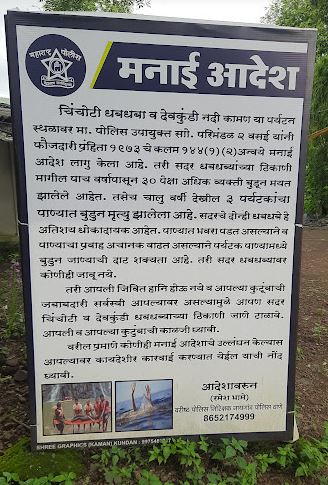 Fun activities at Devkundi
You can enjoy following activities at Devkundi
Devkundi is the base location for Kaman durg trek, you can get a guide from here and reach the fort.
There is a small house beside the river, the old couple will provide you wood and makeshift choolha to cook food, it will be fun to make maggi and tea! Carry you stuff including milk.
Get wet in the river
Get free fish massage at the river side where water is calm!
Just relax under tree and watch river flow.
Best one day trip itinerary to Devkundi River
This is my recommendation for Devkundi river one day outing, budget friendly itinerary:
Reach Naigaon station around 730-8am
Get auto till Chinchoti Naka- Rs.30 per seat
From Chinchoti Naka, get auto till Kaman village- Rs.20 per seat
Buy some snaks, milk (if you like to have tea), raw food item if you wish to cook near river
Walk towards Devkundi village. Better confirm with people you find on way if you are on correct path. Rule of thumb, in case you are confused at a Y junction and no local is there to guide, take the left path.
Google maps will guide you till the village
Visit the last house near river, there is an old couple staying there. They will provide you with temporary chulha and wood, you can cook, make team. They will provide you with utincils as well. Depending on how much help you took from them, do give them Rs.100-500/-
Have a dip in the river, be careful as the river bottom is slippery and during heavy monsoon the water flow can be dangerous.
Take a hike in wild, enjoy the birds call, nature
Hike back to Kaman village..
Note: You may also negotiate with an auto at Kaman village for return trip, it may cost your any where around Rs.500-1000/-
Conclusion:
Devkundi river hike is a fun one day activity in nature. You can reach there by your vechicle in case you do not want to hike.
Be responsible while in nature and do not litter. Avoid using plastic and carry non-bio degradable waste back to the city and dump there so that it can be taken care of.
Related post:
You will also enjoy following posts