Guide to Nagaland Trip
Planning for a solo trip to Nagaland? Let me share my experience and itinary of my own Nagaland solo trip.
Table of Contents
Where is Nagaland?
Nagaland is one of the states in the North East part of India. It is one of the 7 sisters, bosting of its natural beauty.
How to reach Nagaland?
You can reach Nagaland by Air, train and road based on your comfort and budget. Keep reading for details…
Nagaland by Air
Even though there is an airport in Nagaland, the flights are very limited. Its better to reach Guwahati airport that is well connected with major cities in India.
From Airport, you can either hire a cab to Nagaland or opt for train.
Nagaland by train
Dimapur, the biggest city of Nagaland is well connected by train from Guwahati. The train journey will take around 5hrs.
Nagaland by road
Nagaland is well connected by roads. You can enter your location on GPS and drive to Nagaland.
Weather in Dimapur
Dimapur was hot in the september and the weather is always on the warmer side there. The city was like any other Indian city, with its hustle and bustel.
Budget stay at Dimapur
If you arrive by train, the best budget option is Dimapur Retiring room and dorms. You will geat a bed in dorm for Rs.150/-. Make sure to do online booking before hand to avoid disappointment.
You can also connect with Angel, mobile 8256904882- she owns a dormitory named TravelerHouse around 10-15 min (3km) from station where you can get a bed for Rs.500/- , breakfast is complimatory. She will also guide you around as she herself is an avid traveler. Check out the images of the happening stay in Dimapur
If not, you can look for other stay, one is the Tourist lodge near Dimapur Bus stand. Following images shows the lodge and its tarrif. Dorm is availalbe only for group bookings.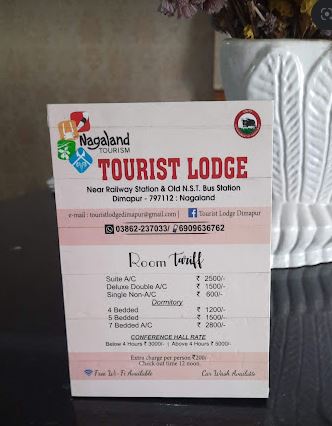 How to get Nagaland ILP online?
Do remember that before entering Nagaland, you need to apply for ILP (Inner Line Permit). This is an easy process, you can apply it online from the comfort of your home.
Unless its a holiday, you will get approval within a few hours provided all the details are correctly entered. Do read this step by step process to get Nagaland ILP Online.
My solo trip to Nagaland
I started my solo trip to Nagaland from Guwahati. I reached Guwahati railway station pretty early, since I did not reserve a seat in train, I got myself a General ticket using UTS app. It cost me Rs.95/- one way.
From Guwahati, there are two trains to Dimapur, one will drop you at Dimapur around 1am the other one at 5am. I opted for 5am train as I planned to visit Kohima first.
It turned out to be pretty good plan, I was able to get the first bus to Kohima that starts around 630am.
Dimapur to Kohima bus
The government bus stand is just outside Dimapur railway station. There are various counters depending on your destination.The counter for Kohima is towards the railway station side.
Do remember that in Nagaland, the bus will start only once its full. It does not have fixed time to start.
There are two types of bus from Dimapur to Kohima, one is delux that will cost you Rs.130/- per seat and the other one is normal that will cost you Rs.100/-
I will suggest take which ever is available early, there is very less difference between the two bus!
The bus will take around 3hrs to reach Kohima.
The bus will drop you at ISBT which is around 13km away from the city but the good thing is a city bus is available and runs in sync with the bus arriving/departing from Dimapur. By paying Rs.30/- you can reach city center.
There are cabs also available, sharing will cost you Rs.50/- per seat.
The return journey to Dimapur will also be same. The first city bus from Kohima bus stop starts at 7am, it will drop you at ISBT.
Again, depending on the bus being full, the bus will start its journey.
Budget stay at Kohima
There are various hotels and dorms available at Kohima. You can book it online or search for it once you reach there. Keep a budget of Rs.500-800 for dorm and Rs.1000 + for room.
Note: Kohima is a hilly city, so be prepared to walk uphill!
Food options at Kohima
You will find many restaurants selling Rice Chicken or pork or beef. Pork is more popular there, so decide as per your choice.
The street food is also recommended, since the weather is cool there is hardly any dust around.
Veg options are limited but if you search, you will get veg restaurants there.
Kohima Weather
The weather is at the cooler side in Kohima. I visited in end of september and it was very plesant towards cool side. During December to Feb, be prepared with your woolens.
Places to visit in Kohima
The biggest attraction I found was the war memorial. It had stones with names engraved on it of the soldiers who lost their life during 2nd world woar, while fighting Japanese invasion.
Nagaland Museume is also one good place to visit, bit far from the city.
Apart from these two attractions, you can just roam around the city enjoying the weather and the church.
Conclusion:
Nagaland is a safe place to visit. The people are very polite. Since alcohol is banned, you will not find some of the nuciance.
Hope my budget Nagaland solo trip details was of help.
Related Posts:
Do read more intresting posts at JholaUthaKChale , a guide for new Solo Travelers.